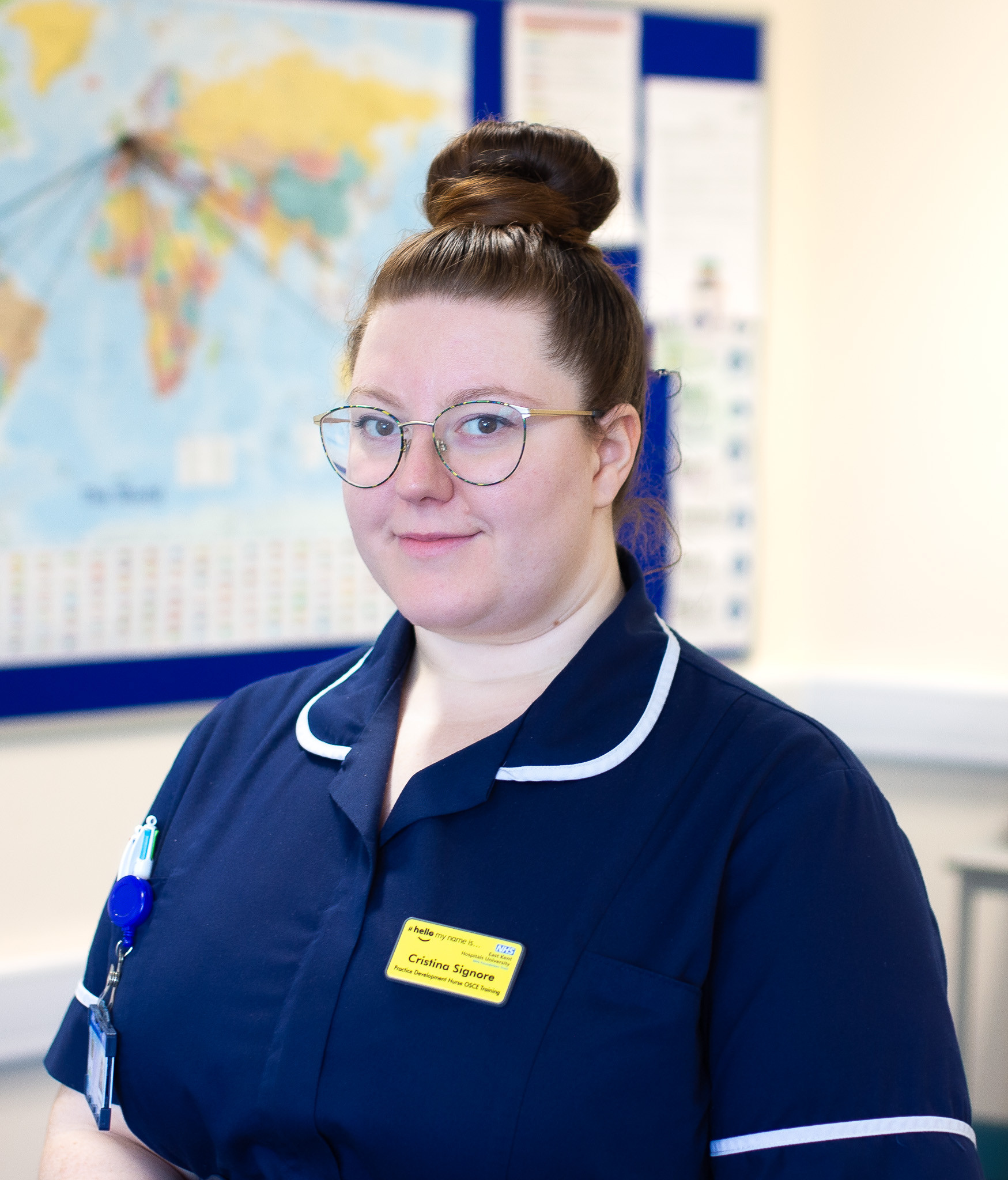 Celebrating Nurses' Day - meet Cristina Signore
Cristina Signore grew up in Italy, surrounded by her family, good food and good weather. As a child she dreamed of becoming a mechanic or owning a food truck, but following a difficult experience in hospital as a patient she changed her mind. 
The experience showed her the difference a caring and compassionate nurse could make to someone, so she decided on nursing as a career and promised herself she would always give her patients the best care possible. 
Shortly after Cristina finished her training, an opportunity to move to the UK and work at East Kent Hospitals came up and she immediately signed herself up.
She said: "My grandmother was from England and left when she was young to find a better future in Italy, and then I left Italy to find a better future in England. It felt like a very special opportunity that I couldn't pass up.
"I felt so welcomed by the Trust, even when I was still in Italy. They supported me from the very beginning and continue to help me develop my career now. 
"I came to the UK with a cohort of Italians, and then lived in shared accommodation with people from all over the world. I had never lived with anyone else before so it was strange, but really exciting."
After passing her exams, Cristina spent three years in the acute medical unit at the William Harvey Hospital where she proudly received a sepsis star award for recognising the symptoms of sepsis and saving someone's life.
In 2019, she joined the intensive care unit to expand her knowledge and challenge herself but when the coronavirus pandemic started the following year, she found herself challenged much more than she had anticipated. 
She said: "It was a really hard time, and at the end of it I needed to step away but still contribute, so I followed my other passion, teaching, and joined the workforce development education and training (WDET) team." 
Now a practice development nurse, lead for international nurses' development and OSCE training, Cristina manages a small team who help qualified nurses from around the world pass the OSCE exam to allow them to gain NMC registration and practice safely in this country. 
She said: "I love that I can now give back to those who helped train me. I can really resonate with international nurses because I am one - I know what it feels like to leave my family and start a new life somewhere else.
"That being said, I know I'll never go back. In Italy, nurses don't specialise and so there are more opportunities here to become an expert in your field. 
"I feel like I'm the best version of myself here. I am surrounded by a supportive team and I get to make a difference even though I am no longer on the front line. With my new role I am able to shape the workforce that cares for our patients with the aim of being a role model for them.
"The message I would like to share to everyone is: follow your passion and strive every day to be the best version of yourself, because you can here at East Kent Hospitals."